Not long ago, I was assigned a magazine story featuring a young entrepreneur whose Internet-viral video had slapped him with a dusting of fame. Our phone interview began cold and rigid – like trying to stretch a stiff muscle early in the morning. His tone was stale and sharp; his answers almost staccato-like. It was as though my questions were striking him like a tennis ball that had lost its bounce.
"I gave an interview for a newspaper last month, and I didn't like what they printed," he growled, as if to warn me.
Before long, however, he began slowly unfurling from his icy corner of austerity. I could sense that he was melting; his tone becoming as soft and dulcet as butter. He loosened from his rigidness, slipping into a state so cozy that he told me, "You are so much cooler than my last [interviewer]."
At that point, he welcomed me with open arms into the showroom of his personal history, thereby breaking the cardinal rule of proper etiquette when talking to a journalist. In other words, he told me private things about himself he never expected to be brought to the light of the masses.
His guards were no longer armed and keeping a watchful eye, and the tightly-locked gates composing him and his secrets swung open wide with total abandon. His guards were reclining in their chairs – kicking back and snoozing, in fact. (Psst. Life Pro Tip: If ever you find yourself being interviewed for a media source, do not tell the interviewer anything you do not want published. If it's interesting, he or she just may – gasp! – include it within the story. I know, I know, we are such vile beings.)
Within the duration of our hour-long interview, he shared with me details about his once troubled past. He enlightened me in regard to how passionately he once "hated cops" – serving me up buffet-style platters of meaty reflections and 'juicy' confessions. He told me about the summer Saturday at 15 years old when he was arrested in a park. He told me about the seemingly never-ending weekend spent at the Juvenile Detention Center. He told me, too, how he was sure that his poor decisions provided him a unique frame of reference to be more authentic, empathic and intuitive as an evolving mentor within his profession.
By the conclusion of our conversation, I was honored to have been assigned his story to cover. I smiled to myself proudly, happy to attach my name to a life of outstanding transformation – one who evolved from having no ambition or direction to a passionate community activist. I respected him, and vowed to handle his story with integrity and grace.
And, from the first draft to the moment I polished my final edit, I absolutely kept my word. But, woven within that integrity and grace, I also contrasted the light of his present circumstances with the dimness of his troubled past. It is what storytellers do.
Several weeks later when he read the piece, I saw his name appear in my email inbox. I smiled to myself, certain it would be an expression of how thrilled he was with my craftsmanship. Immediately, I began rehearsing what I would say in response.
I soon discovered, however, that his words landed in my inbox as though ready to hurl my terrier ass into a yard full of mouth-foaming pit bulls. Yep.
He was circling the story in a state of hot-blooded panic – furious at the sight of my choice of quotes and, therefore, inundating me with an onslaught of barking rants.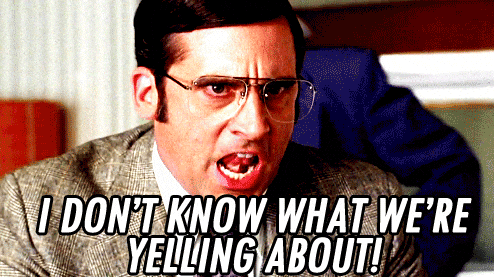 What if his business partners find out he once "hated cops"? What if his grandmother learns that he was seldom ever playing video games in her basement after school? What if the little old lady down the street finds out he hasn't always been the quintessential samaritan – that he hasn't spent his entire life gathering mail and newspapers for feeble old ladies?
The horror!
He seemed offended that I would portray him in such an accurate light. He seemed offended, in fact, by the notion of the word 'hate' being associated with any members of his beloved community.
But, I had twisted nothing. The only thing I had done was serve as his mirror.
How ghastly that I opted not to gloss over his words – that I did not slice, rearrange and remix them in order to rewrite history and glorify him, thereby making it appear as though his choices had always been worthy of exalting. How deplorable that I show the polarity of his humanness, perhaps for the purpose of inspiring readers to also step out of their shadowed selves and into their greatness.
"I have never actually hated cops. Hate is a strong word. I can't believe you used that," he snapped.
A strong word it is indeed, I thought. In fact, those were precisely my thoughts when you stated it in the interview… three times. Would you like for me to play it back for you so that we can further discuss?
But, he wasn't softening this time. Instead, he layered the guilt on me so heavily I almost believed I deserved it. I mean, did I want to carry the possibility of "sabotaging [his] reputation" on my shoulders?
No… did he?
Lesson Learned: Behold the Power of the Tongue
Once the downpour of emotions calmed and he apologized for his overreaction, the stormy debacle infused me with a newfound clarity. It compelled to consider: What if all of our private conversations were on playback at the end of every day?
Would we be offended by ourselves – by our own expressions of thought and opinion? Would we find ourselves as distasteful and rude – perhaps, repulsive – as those coworkers or acquaintances who are perpetually crawling under our skin with their 'inappropriate' remarks?
I contemplate the words I have freed from my mouth – oftentimes at the speed of light – when in moments of frenzy or mindless disregard. If I could see them realized, if they were printed in an article – staring at me unapologetically and serving as my mirror – it is likely some would mortify me.
Countless times I have made statements only to immediately regret them, and there are likely countless more I do not recall but would cringe and cover my face in shame if they were played back to me. In fact, there are a few extreme instances of writing while in the height of emotion, I have unleashed streams of consciousness that have inclined me to make a holy sanctuary of gratitude for the edit button. And, I recall a multitude of episodes with friends who later denied having spewed head-jerking statements I and others clearly heard them say when either emotions were high or guards were down.
So, I wonder: How may we be sabotaging our lives – the climates of our relationships, reputations, work environments, etc. – with our own heedless words?
It is a simple concept, yes, but also potentially transformative when considering how much is at stake.
Maya Angelou once said: "Some day we'll be able to measure the power of words. I think they are things. They get on the walls. They get in your wallpaper. They get in your rugs, in your upholstery, and your clothes, and finally in to you."
Every time I revisit that quote, it inundates me with chills. The power of words can only be real. So, I implore you (and myself) to consider: How often do our unfiltered selves unload mindless, venomous and potentially day-wrecking narratives to those we are most comfortable with? How may our unguarded chattering be damaging our interactions, opportunities and reputations? How may we be contaminating and draining the energy of others with our words – perhaps words we do not actually mean once we take the opportunity to reflect upon them?
Or, perhaps, we do mean them. And, if so, that is also something to ponder: Are there grudges, judgements, prejudices and regrets we are filled up with to such a degree that they eventually pour out of us, into our words and then pollute our lives – like an ugly gushing reservoir of toxicity? What poisonous thoughts do we have tucked away in shadows – thoughts that slip out of the otherwise locked gate when we become so comfortable that our guards are no longer keeping a watchful eye? Thoughts that become words which then harm others?
So, I have begun a practice of regularly asking myself: If I could stroll through a showroom of my innermost thoughts, would I be offended by any of them? If my conversations were on playback at the end of every day, would I be pleased with what I had to say? Because eventually – and perhaps only when a few are listening – people always release what they are filled up with.