Comparison and loneliness have always been devils, but each are now more prevalent than ever. Because what social media reveals is seldom real.
All of the world has become a stage. We have access to information on the most obscure subcultures and moments in history. Background checks are only a click away, yet our social lives are more filtered than ever – figuratively and literally. Strangers accompany us to coffee runs and traffic jams. We watch one another's baby gender reveals, culinary creations and romantic milestones unfold from the comfort of our own living rooms, but oftentimes through a lens of inauthenticity. 
Isn't it ironic that the doors to our most intimate moments are left ajar more frequently than ever, yet what we convey is often more contrived and glossed over than ever?
We shout our political and religious viewpoints boldly, while the vast majority of Instagram's offerings of 'beauty' and 'inspo' are as airbrushed and filtered as the embellished accomplishments. Our meals are as styled as our wardrobes. We are not open books, after all; we are asterisked, highlighted and underlined paragraphs – oftentimes laced with a dusting of glitter. 
While some of the misrepresentations are blatantly manipulated, some are accidental. For example, I feel a natural inclination to publicly celebrate the times which are lovely, but avoid social media when my face is in the dirt. 
If this resonates with you, read on. I'm abut to offer up an illustration of my actual online life. In other words, a comparison of what I showcased online, versus the not-always-glittering reality.
It's been quite an eventful year for me. I rang in the New Year with a champagne toast and a kiss. February rolled through with an assignment to interview my first celebrity for a magazine story.
By Valentine's Day, I was embarking on a dreamy cabin getaway in the mountains with my husband. He was for sure the ultimate Casanova on Snapchat – captured preparing brunch and pouring mimosas as I lounged in a cozy corner by a dancing fire.
Spring brought forth a sundry bloom of new bylines to my resume. And, as the curtain opened for summer's final act, Facebook showcased me galavanting under the glow of the Southern California sun – giggling on the sidewalks of downtown Los Angeles, interviewing a high profile individual at a swanky hotel in Beverly Hills, enjoying an indulgent brunch on Sunset Boulevard, hiking to The Hollywood Sign, swaying in my husband's arms at a music festival and sunbathing on a patio – a panoramic view of the Pacific serving as my backdrop.
As fall blew through, it became worthy of a standing ovation. And, I cooed about it online. I was serenaded to sleep by a fountain in a Spanish-style garden – set right in the heart of New Orleans' Jackson Square. I slid on my fanciest party dress, curled my hair and posed for selfies in the French Quarter.
Pretty amazing, right? If my online life were granted the opportunity to be a Hollywood script, it would unfold like an inspirational and steamy romantic blockbuster. And, you know what? Even I would be envious of the actress hired to play me.
That's right. Because those celebratory and fun-loving moments – while cherished experiences – are not my year's complete picture. Nope.
What I seldom felt inclined to highlight and showcase online were the incidents of mascara-drenched tear stains on my pillow. The month-long string of unexpected rejections early in the summer, provoking me to sob into my living room carpet one afternoon – wondering if my career had fallen into a perpetual famine. The countless days I wrote and edited from my couch – no makeup, chipped nail polish, matted hair and likely resembling a creature from the swamps. The dangling carrots of opportunity, followed by the realizations which proclaimed, "Sorry, girl. You were never qualified for that, anyway."
The exhaustive and mind-bending hours of research that went into creating certain articles – articles many readers spent no more than three minutes entertaining, only to then immediately forget.
The clammy-hands and bouts of self-shaming. The turbulent disagreements with my husband, even leading to a shouting match once or twice. The random phantoms of inexplicable gloom. The crushing day each month when my period came, reminding me that – after more than two years of trying – I'm still not being granted initiation into motherhood. The pain and trauma from childhood that is occasionally hellbent on sweeping in and saying hello – reminding me that I will never erase certain things from my memory.
That's a page or two ripped from my book – sans circling, sans highlighting. No fabrications, no blurring of imperfections and no filter. While my life may contain whimsical tales of love and accomplishment, it isn't pretty from every angle. It's a book many would deem too boring to read every chapter of, in fact.
So, I want to know: Why is there temptation to convince our online audiences that our lives are more fabulous than they are? If it is unconditional love we are seeking, we are robbing ourselves of exactly that by hiding behind our facades – preventing anyone from loving us beyond the superficial layers of the dazzling masks we wear. And, those masks are miserable to maintain! In fact, it's stuffy and sweaty under there. 
Social media says we're always connected, yet we feel more disconnected than ever…
I once knew a girl who portrayed quite a colorful existence online. She posted inspiring quotes she did not live by – at least not when the lights were dim. She posted advice she did not follow – at least not during her unfiltered conversations with friends. She posted selfies with captions proclaiming to conquer the world, all the while neglecting to conquer the layers of sadness she was smothering underneath. 
My phone was constantly aglow with screenshots of the many ex-lovers and potential suitors she obsessed over. There were requests that I leave compliments on her Facebook pictures and statuses. "Say something about my character. Say that any guy would be lucky to have me," she begged of me one afternoon, her voice cracking with desperation.
She claimed her calculated efforts were made for the purpose of anchoring love, but the sad reality was this: She was granting no one the opportunity to truly love her – the real and awesome "her "I had grown to care fore, for the vast majority of what she showcased online was never her at all. It was one performance after the other.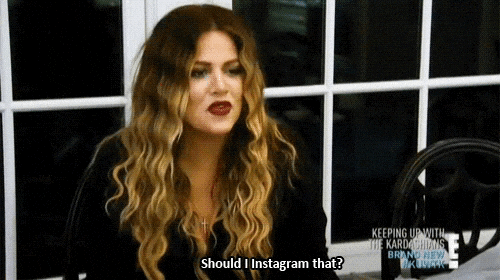 This is something I know from experience – from years of wading through the dark waters of my own insecurities: When someone is chronically pretending, they are terrified that the truth will render them lonely. But, in turn, the habit of pretending only serves to breed further layers of loneliness. Because social media attention is not genuine connection. It is seductive and addictive – void of substance. It creates a cycle of exalting bursts of ego followed by shadowed emptiness that feels bottomless – until we grab a fleeting hold of that burst once again.
The science and stats reveal a social media compulsion that's gripping…
Social media attention only pacifies us momentarily – providing us with an injected rush of dopamine (our body's dearly reward molecule) – every time we see that beloved red alert. And we can't seem to pull away.
A study performed in 2015 and discussed by Jonathan Fields in his book "How to Live a Good Life," revealed that 77 percent of individuals from a 6,000-person study admitted to checking their phones before crawling out of bed in the morning. Ninety percent admitted to taking their phones into their bathrooms with them – scrolling while handling their bodily business. And an overwhelming 82 percent admitted to checking their social feeds and messages while engaged in direct conversation with someone else. That's right. We're cutting off the oxygen supplies to our true encounters, in pursuit of the elusive and glossed-over encounters.
And we continue to starve for authentic connection, craving and chasing more of that which will never satisfy us. We set our expectations sky-high for how others will validate us, either to have those expectations crash and burn or temporarily fancied. But it will never give us what we are actually seeking.
Because we quietly ache for someone to read through our pages intimately and lovingly; not merely skim over the highlighted paragraphs we reveal online. 
So, I'm shouting to myself at the same volume that I'm shouting to everyone else: Let us celebrate and share, but never become so preoccupied with documenting or staging scenes that we forget to live them. We may believe we are leaving our doors ajar, but are often slamming them shut in the faces of authentic connection.
And that isn't a life. That is a foolish way to spend our earthly time – a slow suffocation in an artificial paradise.
The original version of this article by Lacey Johnson was syndicated on The Huffington Post.